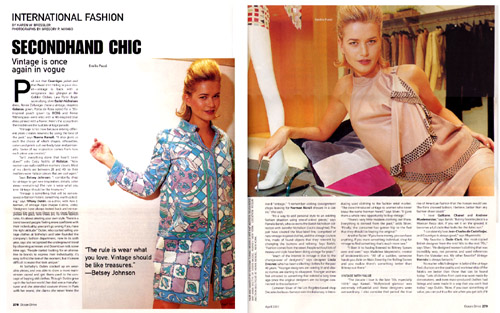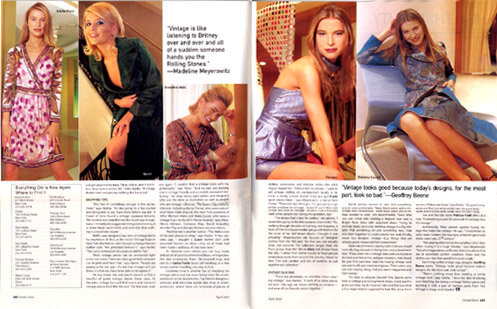 SECONDHAND CHIC
Vintage is once again in vogue
by Karen Bressler
Pull out that Courreges jacket and that Pucci shirt hiding in your closet - vintage is back with a vengeance. Just glimpse at the Golden Globes. Lara Flynn Boyle wore a long silver Barish Nicholson dress, Renee Zellweger chose a vintage, strapless Galanos gown, Portia de Rossi opted for a 30's inspired peach gown by BCBG and Reese Witherspoon went retro with a 40's inspired blue dress pinned with a flower. Here's the scoop from the insiders on the sudden vintage parade.
"Vintage is hot now because mixing different years creates newness by using the best of the past," says Norma Kamali. "It also gives us each the choice of which shapes, silhouettes, colors and prints suits our body type and personality. Some of my inspiration comes from how each piece was created."
"Is there anything done that hasn't been done?" asks Craig Natillo of Halston. "Now women can really raid their mothers' closets. Most of my clients are between 28 and 40, so their mothers wore Halston pieces that are cool again."
Says Betsey Johnson: "I constantly shop for vintage to get new inspiration, details, color ideas - everything! The rule is wear what you love. Vintage should be like treasures.".
"Vintage is something that will be remembered in fashion history," says Tiffany Dubin, co-author, with Ann E. Berman, of VIntage Style (Harper Collins 2000). "Designers have always looked back and reinterpreted the past; now there are no more fashion rules. It's about creating your own style. There is a trend toward people feeling more confident with their individuality; you can't go wrong if you have the right attitude." Dubin, who started selling vintage clothes at Sotheby's and later founded the company's fashion department, now in its sixth year, says she recognized the underground trend by observing actresses and downtown kids some time ago. "People started looking for an alternative to brands to express their individuality. It's easy to find the look of the moment, but it's more difficult to make that look unique.".
At Sotheby's, Dubin stocked up on wearable pieces, and was able to draw a more mainstream crowd and get them used to the concept of buying old clothes. Though Dubin grew up in the fashion world (her dad was a manufacturer and she attended couture shows with her mom), she claims she never knew the word 'vintage'. "I remember visiting consignment shops looking for Norman Norell dresses in a size six." she says.
It's a way to add personal style to an existing fashion situation using one-of-a-kind pieces," says Pamela Barish, who co-owns the Barish Nicholson collection with Jennifer NIcholson (Jack's daughter). The pair have created the blue-label line, comprised of new vintage-inspired clothes, and the vintage couture line, made of found objects that they reinvent by changing the buttons and relining. Says Barish, "Fashion comes from the street. People without lots of money with style have been doing it for years."
"Much of the interest in vintage is due to the change-over in designers," says designer Linda Dresner, who has been collecting clothes for the past 40 years. "Younger designer are coming in and basic names are starting to disappear. Younger women feel attracted to something that existed a long time ago since the original designers are no longer connected to the collection.".
Cameron Silver of the Los Angeles-based Decades believes Barney's was revolutionary in introducing used clothing to the fashion retail market: "The store introduced vintage to women who never knew the name Norman Norell, " says Silver. "It gave them a whole new opportunity to buy vintage."
"There's very little modern clothing out there. Everything is derived from the past," adds Silver. "Finally, the consumer has gotten hip to the fact they they should be buying the original."
Another factor: "If you have money, you can have anything. If you want something individual, shop for vintage to find something that's much more rare."
"I liken it to having listened to Britney Spears over and over, "says Madeline Meyerowitz, creator of enokiworld.com. "All of a sudden, someone hands you Exile on Main Street by the Rolling Stones and you realize there's something better than Britney out there."
Vintage with Value
"The decade I love is the late 30s, especially 1939," says Kamali. "Hollywood glamour was extremely influential and these designers were extraordinary. I also consider that period the true rise of American fashion that the masses would see. The films showed fashion, I believe, better than any fashion show could.".
"I love Galliano, Chanel and Ann Demeulemeester," says Barish. "But my favorite piece is a Mexican fiesta skirt. If you set it on the ground, it becomes a full circle that looks like the Aztec sun.".
"I consistently love Jean-Charles de Castelbajac, and Courreges is always good," says Meyerowitz.
"My favorite is Ossie Clark, the most-copied British designer from the mid-60s to the mid-70s," says Silver. "He designed women's clothing that was incredibly sexy, not perverse, and used references from the Victorian era. My other favorite? Vintage Hermes is always fantastic."
No matter which designer is behind the vintage find, chances are the quality and workmanship of the fabrics are better than those that can be found today. "Lots of clothes from past eras were made by dressmakers, and even mass-produced clothes had linings and were made in way you can't find today, " says Dubin. "Now, if you own something of value, you can put it up for sale when you get sick of it and get your money back. These clothes aren't worthless, they have a second life.".
Shopping Tips
"The find of something vintage is the excitement, "says Natillo. "It's like going to a flea market and being able to say 'I got there before you did'".
"Most vintage pieces can be uncovered right under out noses. There are many great finds between Los Angeles and New York, " says Barish. "people are paying us for our eye - it' not that vintage isn't out there, it's that you have to be able to recognize it.".
Hit any major city and you're bound to find handful of great vintage stores these days. The internet is another option. "The web is one of the best places to shop." says Dubin.
Courtney Love is another fan of shopping for vintage online and has even linked sites like enokiworld.com to her favorites list. Top fashion designers, actresses and television stylists also shop at enokiworld, where there are hundreds of pieces of clothes, accessories and lifestyle items - like early Vogue magazines - from which to choose."I used to sell vintage clothing on consignment locally in St. Louis, a totally uncool market, (they just got Prada sport shoes here, okay?), says Meyerowitz, a native New Yorker. "Then one day I thought, 'I'm just going to go online to look for vintage. I know if I can't find cool stuff, other people are having this problem too."
"I've always had a love for clothes, " she admits. "When I was a little kid, I remember going to the Met costume show in the 70s, walking through decades of clothing and stopping in front of Cher's hippie leather get-up with feathers for the cover of the Half-Breed album. I thought it was amazing." Meyerowitz's site focuses on designer clothes from the 60s and 70s that you can actually wear, not costume. Her collection ranges from Pucci jersey from the 60s to Alaia knit dresses from the 80s. "I either find clothes locally or have people send pieces to me from around the country. I travel to New York and London and do all the auctions to pull together our collection.".
Vintage Faux Pas
"There are absolutely no mistakes when wearing vintage, "says Kamali. "Each of us picks pieces we love - the way we chose clothing as children - and wears all of our favorite pieces together."
Barish advises to start with something simple and comfortable. "Wear black pants and a vintage sweater to start, "she recommends. "Soon after you can move into wearing a leopard coat over a bright floral dress with sequined shoes. Trying to entirely depict an era by wearing vintage i a big mistake. Pick something old and something new, then mix them together to create a really new look.".
Dubin recommends buying styles that you would normally buy instead of diving into unchartered territory. "If you walk into a vintage store and are drawn to the look and feel of the cardigan sweaters, that should be your first purchase. Ease into buying vintage until you eventually get more courageous. That's when you can start buying things that you see in magazines and look trendy."
"It's best to educate yourself. Spend some time in vintage and consignment shops. Go to museum sites and find out what a Courreges label is supposed to look like, "says Dubin. "Do your homework and find out what works best for your body."
Sex and the City stylist Patricia Field offers as a rule, "If something is over 50 years old, it's antique; less, it's vintage.".
Additionally, Silver advises against buying vintage that looks like vintage. He says, "Concentrate on what looks modern. For example, a Halston gown and shoes looks very sty century."
Not paying attention to the condition of an item when buying is a huge mistake, "says Meyerowitz. "Not all vintage pieces are flawed; there are plenty that are in absolutely perfect condition. Make sure the clothes you buy look good from every angle.".
Summing up the vintage rage, designer Geoffrey Beene notes, "Vintage looks good because today's designs, for the most part, look so bad.".