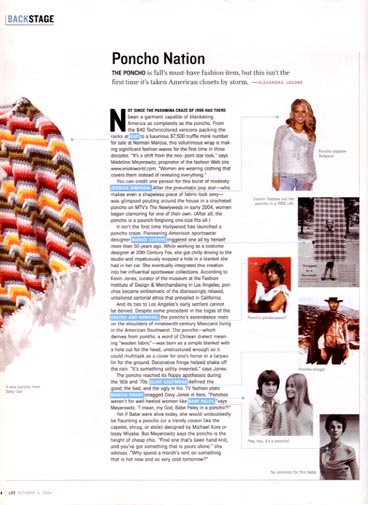 Poncho Nation
The poncho is fall's must-have fashion item, but this isn't the first time it's taken American closets by storm.
Not since the pashmina craze of 1998 has there been a garment capable of blanketing America as completely as the poncho. From the $40 Technicolored versions packing the racks at GAP to a luxurious $7,500 truffle mink number for sale at Neiman Marcus, this voluminous wrap is making significant fashion waves for the first time in three decades. "It's a shift from the neo-porn star look," says Madeline Meyerowitz, proprietor of the fashion Web site www.enokiworld.com. "Women are wearing clothing that covers them instead of revealing everything."
You can credit one person for this burst of modesty; Jessica Simpson. After the pneumatic pop star - who makes even a shapeless piece of fabric look sexy - was glimpsed pouting around the house in a crocheted poncho on MTV's The Newlyweds in early 2004, women began clamoring for their own. (After all, the poncho is a paunch-forgiving one-size-fits-all.)
It isn't the first time Hollywood has launched a poncho craze. Pioneering American sportswear designer Bonnie Cashin triggered one all by herself more than 50 years ago. While working as a costume designer at 20th Century Fox, she got chilly driving to the studio and impetuously snipped a hole in a blanket she had in her car. She eventually integrated this creation into her influential sportswear collections. According to Kevin Jones, curator of the museum at the Fashion Institute of Design and Merchandising in Los Angeles, ponchos became emblematic of the distressingly relaxed, untailored sartorial ethos that prevailed in California.
And its ties to Los Angeles's early settlers cannot be denied. Despite some precedent in the togas of the Greeks and Romans, the poncho's ascendance rests on the shoulders of nioneteenth-century Mexicans living in the American Southwest. The poncho - which derives from pontho, a word of Chilean dialect meaning "woolen fabric" - was born of a simple blanket with a hole cut out for the head, unstructured enough so it could multitask as a cover for one's horse or a tarpaulin for the ground. Decorative fringe helped shake off the rain. "It's something utility invented," says Jones.
The poncho reached its floppy apotheosis during the '60s and '70s. Clint Eastwood defined the good, the bad, and the ugly in his. TV fashion plate Marcia Brady snagged Davy Jones in hers. "Ponchos weren't for well-heeled women like Babe Paley," says Meyerowitz. "I mean, my God, Babe Paley in a poncho?!"
Yet if Babe were alive today, she would undoubtedly be flaunting a poncho (or trendy cousin like the capelet, shrug, or stole) designed by Michael Kors or Issey Miyake. But Meyerowitz says the poncho is the height of cheap chic. "Find one that's been hand-knit and you've got something that is yours alone." she advises. "Why spend a month's rent on something that is hot now and so very cold tomorrow?"