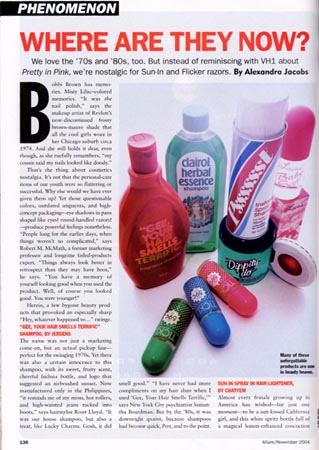 Phenomenon : Where Are They Now?
We love the '70s and '80s, too. But instead of reminiscing with VH1 about Pretty in Pink, we're nostalgic for Sun-In and Flicker razors.
Bobbi Brown has memories. Misty Lilac-colored memories. "It was the nail polish," says the makeup artist of Revlon's now-discontinued frosty brown mauve shade that all the cool girls wore in her Chicago suburb circa 1974. And still she holds it dear, even though, as she ruefully remembers, "my cousin said my nails looked like doody."
That's the thing about cosmetics nostalgia. It's not that the personal care items of our youth were so flattering or successful. Why else would we have ever given them up? Yet those questionable colors, outdated unguents, and high-concept packaging - eye shadows in pans shaped like eyes! round handled razors! - produce powerful feelings nonetheless. ""People long for the earlier days, when things weren't so complicated," says Robert M. McMath, a former marketing professor and longtime failed-products expert. "Things always look better in retrospect than they may have been," he says. "You have a memory of yourself looking good when you used the product. Well, of course you looked good. You were younger!"
Herein, a few bygone beauty products that provoked an especially sharp "Hey, whatever happened to..." twinge.
Tickle Antiperspirant Deodorant
Personal hygiene can be rather efficient - but for one giddy moment, it was flirty, frolicsome...and phallic. Tickle was shaped like an hourglass and topped with a roll-on applicator bigger than a golf ball - in pink, yellow, blue or green. "You would go whoosh - one, two, and it would cover your entire underarm and almost half of your upper arm," says Madeline Meyerowitz, owner of enokiworld, a vintage clothing website. Marketing classes have since analyzed its wink-wink advertising campaign, which included the slogan, "Make yourself happy with a little tickle." "You could tell who was up to what by the color they picked," Meyerowitz says.
Body on Tap Shampoo by Bristol-Myers
Commercials warned people not to drink the shampoo fortified with beer. It was a slick corporate take on a long-time home remedy: rinsing hair with beer to give it volume and shine. B.O.T seemed eternally caught between hippiedom and a frat party -both earthy-crunchy (natural ingredients!) and slightly naughty (surely minors shouldn't be allowed near this stuff!). Body on Tap was designed to leave hair fluffy rather than flat. "These were the days when you'd lather two or three times," Meyerowitz says. "I do remember it didn't smell like beer. It just smelled perfumey- kind of a green smell, but in a brown bottle. It was in the wheat germ Faberge mold." (You remember Faberge, of course: She told two friends, and they told two friends, and so on, and so on...)
Love's Baby Soft by New Dana Perfumes
Ah, sweet innocence. This simple scent was love spelled capital L-U-V: a soft-focus ad and a base note suggesting liquified talcum powder. "There was this girl named Jamie in tenth grade, and she wore Love's Baby Soft," Meyerowitz recalls. "She was like the sexy little mama in school - really pouty lips, cowlnecks with bell-bottom jeans. Love's Baby Soft was for the 'make out on somebody's basment couch to the tune of "Fooled Around and Fell in Love" kind of girl. She had something you didn't understand that all the guys liked."